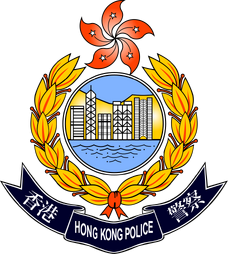 The Hong Kong Police Force (HKPF) (Chinese: 香港警務處) is the largest disciplined service under the Security Bureau of Hong Kong. It is the world's second, and Asia's first, police agency to operate with a modern policing system. It was formed on 1 May 1844 by the British Hong Kong government with a strength of 32 officers. In 1969, Queen Elizabeth II granted the 'Royal' prefix and the HKPF became the Royal Hong Kong Police Force, only to be removed in 1997 upon the transfer of sovereignty of Hong Kong to China.
Due to the one country, two systems perspective, the mainland authorities may not interfere Hong Kong's local law enforcement affairs. HKPF is completely independent from the jurisdiction of Ministry of Public Security of the People's Republic of China.
The current Commissioner of Police is Stephen Lo Wai-chung. Including the Hong Kong Auxiliary Police Force and civil servants, the force consists of about 34,000 personnel; which gave Hong Kong the second highest police officer/citizen ratio in the world in 2014. The Marine Region with about 3,000 officers and a fleet of 143 vessels in 2009, was the largest such marine division of any civil police force.
Community content is available under
CC-BY-SA
unless otherwise noted.