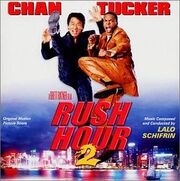 The Rush Hour 2 Soundtrack is a CD of the Original Film Score used within the film, Rush Hour 2. It consists of one disk on one audio CD, and was originally released on August 21, 2001.
1. Rush Hour 2 -- Main Title
2. Out of the Way
3. Mu Shu Parlor
4. Parlor Fight
5. Undercover Agents
6. Isabella
7. Lil Darlin'
8. Shiny Stockings
9. Nevada Mood
10. Cosmo Is las Vegas
11. Like Father, Like Son
12. Sword and the Spear
13. Dragon and the Treasure
Related links
Edit
Community content is available under
CC-BY-SA
unless otherwise noted.