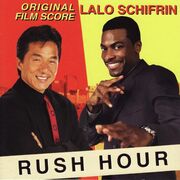 The Rush Hour Soundtrack is a CD of the Original Film Score used within the film, Rush Hour consisting of one disk on one audio CD which was Original Released on September 17, 1998.
Tracks on CD
Edit
1. Rush Hour (Main Title)
2. Fight at the Harbor
3. Soo Yung's Theme
4. Soo Yung's Abduction
5. Lee Arrives in L.A.
6. Jumping the Bus
7. Won Ton for Two
8. Explosive Situation
9. Lee at the Mansion
10. Restaurant Poison
11. Battle at Juntao's
12. Greasy Egg Rolls
13. Chasing Sang
14. $50 Million Ransom
15. On Juntao's Heels
16. Asian Art Convention
17. Lee's Sadness
18. High Tension
19. Sweet and Sour
20. Chinese Street Music
21. Carter Chases Clive
22. British Menace
23. Rush Hour (End Titles)
Related links
Edit
Community content is available under
CC-BY-SA
unless otherwise noted.